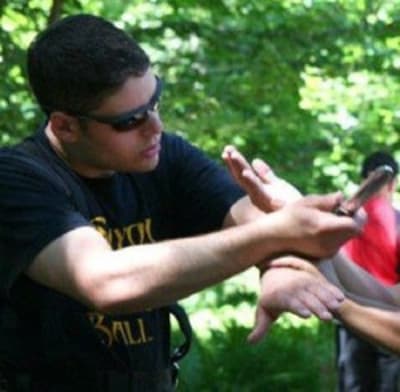 Guro Jake Patterson
For over 25 years, Guro Jake has been actively seeking out the world's best martial arts instructors to further his expertise.
Guro Jake began training in the Inosanto lineage of martial arts in 2001. This lineage can be traced directly to the legendary Bruce Lee, who passed his art down to his protege, training partner, and best friend, Guro Dan Inosanto. In turn, Guro Dan taught Lee Jun Fan Gung Fu and Jeet Kune Do, as well as Filipino Martial Arts and Maphilindo Silat to Tuhon Harley Elmore. Guro Jake spent years working for and training daily with Tuhon Harley Elmore and had the honor of serving as the lead instructor and staff manager at Tuhon Harley's prestigious Warriors Way Martial Arts Academy. In addition, Guro Jake went on to receive his instructor certification directly under Guro Dan Inosanto in Juan Fan Gung Fu / Jeet Kune Do and Filipino Martial Arts as well as receiving instructor certification under Pamana Tuhon Chris Sayoc in Sayoc Kali. Guro Jake is the only certified Sayoc Kali instructor in Central Texas.
Guro Jake is one of the elite few to hold the rank of Full Instructor under Tuhon Harley Elmore as well as earning instructor ranks under Guro Dan Inosanto and Pamana Tuhon Chris Sayoc.
In addition to teaching martial arts to civilians, Guro Jake has had the honor and privilege of training law enforcement officers, S.W.A.T. Teams and Army and Navy Special Operations Groups.
Guro Jake holds the following certifications:
- Warrior's Way International Full Instructor Level 3 (Jun Fan Gung Fu/Jeet Kune Do/Kali/Silat/Muay Thai)
- Inosanto International Martial Arts Instructor Association Guro Level 1 (Jun Fan/Jeet Kune Do/Kali/Filipino Martial Arts)
- Sayoc Kali Instructor (Sayoc Kali)
- Certified Personal Trainer (National Academy of Sports Medicine)
- Performance Enhancement Specialist (National Academy of Sports Medicine)
- Corrective Exercise Specialist (National Academy of Sports Medicine)
- Mixed Martial Arts Conditioning Specialist (National Academy of Sports Medicine)