Our Group Fitness Classes Can Make Your Goals A Reality - No Matter What They Might Be!
In our Group Fitness classes, it doesn't matter if you're training for a race, hoping to lose weight, or looking to stay active for the first time in years - we're here to make it happen.
This program is high-energy and incredibly effective. In each 30-minute workout, we drop the martial arts instruction and focus instead on keeping your heart racing and your muscles moving. We're helping men and women across Cedar Park get more from their bodies than they ever thought possible.
Join us at the Patterson Academy of Martial Arts and check it out for yourself! Just fill out the short form on your screen to get started!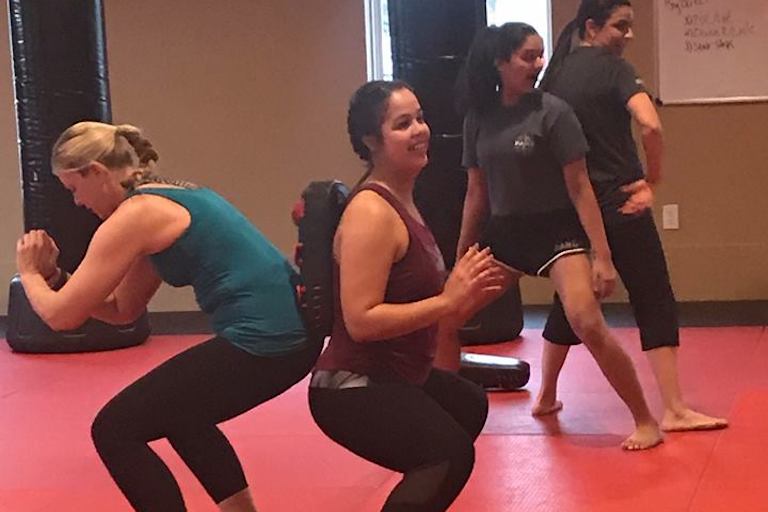 In Our Group Fitness Training, No Two Classes Are The Same
You've probably seen the schedules at your nearest big box gym. Just class after class after class of the same boring routine.
That's not us.
Our goal is to help you stay challenged and motivated week in and week out. Our Group Fitness classes follow a Boot Camp style workout routine that works muscles in your body that you never knew you had. We'll combine bodyweight movements, strength training, endurance workouts - and even obstacles courses. It's action-packed fun!
Join us in Cedar Park and take on:
Sustainable fat burn
Healthy weight loss
Lean muscle gains
Improved heart health
From Day One, Our Group Fitness Classes Can Impact Every Aspect Of Your Life!
You've heard it forever: the key to a happy, healthy lifestyle is physical fitness. But sometime's it's just tough to follow through.
Not anymore.
We're putting you on the sustainable path to fitness success and we're making it more exciting than ever. Our Group Fitness classes are held in a supportive environment where you can rely on everyone around you to stay focused and motivated.
And in no time, you can enjoy:
Reduced stress levels
Improved focus
Increased energy
More restful sleep
Incredible self-confidence
Ready To Get Started? Join Us Today For These Exciting Group Fitness Classes In Cedar Park!
Stop spinning your wheels and start seeing results. At the Patterson Academy of Martial Arts, were helping men and women of all backgrounds thrive with a high-energy Group Fitness program that is great for all abilities.
Just fill out the short form on your screen to learn more or come see us in Cedar Park today!